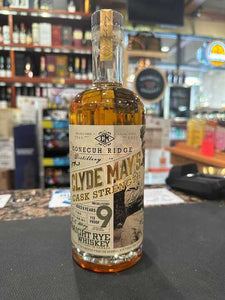 Introducing Clyde May's Cask Strength 9 Year Old Whiskey – a true testament to craftsmanship, tradition, and the art of whiskey making. This remarkable expression embodies the essence of an age-old distilling legacy, bringing forth a symphony of flavors and a robust character that appeals to connoisseurs and enthusiasts alike.

Meticulously crafted and aged for 9 years, this cask strength whiskey is a celebration of time and patience. Each sip reveals the intricate dance of flavors that have matured to perfection within charred oak casks. The deep amber hue invites you to a sensory journey, where the nose is greeted by a rich medley of caramel, vanilla, and toasted oak, complemented by a subtle undercurrent of dried fruits and a hint of spice.

At cask strength, this whiskey boasts an unapologetically bold and full-bodied profile. The first sip envelops the palate with a velvety, almost buttery texture that gradually unfolds layers of complexity. Sweet notes of toffee and butterscotch intermingle with dark chocolate and a gentle warmth that intensifies with each passing moment. As the flavors evolve, a delicate balance of baking spices and oak tannins emerges, lending depth and structure to the experience.

Clyde May's Cask Strength 9 Year Old Whiskey is a nod to tradition with a modern twist. It encapsulates the spirit of those who appreciate the authentic, the powerful, and the exceptional. Whether enjoyed neat, with a drop of water to unlock its nuances, or as the foundation for crafting sophisticated cocktails, this whiskey stands as a testament to the legacy of Clyde May himself – a distiller known for his commitment to quality and innovation.

Raise your glass to the remarkable journey of Clyde May's Cask Strength 9 Year Old Whiskey, where time-honored techniques and years of maturation converge to create a masterpiece that's meant to be savored and shared among discerning aficionados.