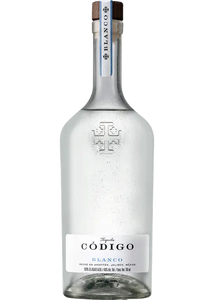 Experience the spirit of Mexico in every sip with Codigo 1530 Blanco Tequila 750ml, a true masterpiece that embodies the heart and soul of tequila craftsmanship. This premium tequila is a tribute to the traditions and dedication of the Codigo 1530 brand, known for producing some of the finest tequilas in the world.

The Codigo 1530 Blanco Tequila is the purest expression of agave, crafted from 100% Weber Blue agave plants that grow for seven years before they are harvested. This 750ml bottle of Blanco Tequila is a celebration of the agave's natural sweetness and depth of flavor.

As you take your first sip, you'll be transported to the heart of Mexico, where the agave plants thrive in the sun-drenched fields. This tequila boasts a crisp and clean character, with a smooth and silky texture that envelops your palate. The flavor profile is a harmonious blend of earthy, herbal notes, and a hint of citrus, providing a true taste of the agave plant.

Codigo 1530 Blanco Tequila is a reflection of the brand's commitment to quality and tradition. With its elegant packaging and exceptional taste, it's not just a tequila; it's a symbol of Mexican heritage and craftsmanship.

Whether you're sipping it neat or using it to craft your favorite cocktails, Codigo 1530 Blanco Tequila is an excellent choice for tequila enthusiasts and those who appreciate the finer things in life. Don't miss the opportunity to experience this exceptional tequila. Order your 750ml bottle today and savor the true essence of Mexico in every drop. Cheers to the spirit of Codigo 1530!