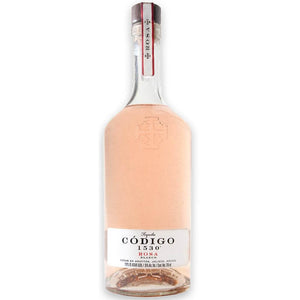 Elevate your tequila experience with Codigo 1530 Rosa Blanco Tequila, a vibrant and unique expression that captures the essence of Mexico's rich tequila-making tradition. This tequila is a celebration of the Codigo 1530 brand's commitment to innovation and quality, offering a tequila that stands out from the rest.

The Codigo 1530 Rosa Blanco Tequila is a beautifully hued pink tequila, a visual delight that promises a flavor journey like no other. It derives its color from a brief maturation in Napa Valley Cabernet French white oak wine barrels, which infuse it with a delicate pink hue and a subtle wine-like influence.

Upon your first sip, you'll be greeted by a harmonious blend of agave, earthy notes, and a touch of citrus, all enveloped in a silky smooth texture. The Rosa Blanco Tequila offers a delightful contrast of flavors, combining the traditional characteristics of a blanco tequila with the elegance of wine barrel aging.

Codigo 1530 Rosa Blanco Tequila is more than just a tequila; it's an artistic fusion of Mexican and Californian craftsmanship. The elegant bottle design and unique flavor profile make it a perfect choice for those who appreciate the finer things in life and seek a tequila experience that's truly exceptional.

Whether you're sipping it neat or incorporating it into creative cocktails, Codigo 1530 Rosa Blanco Tequila is a captivating choice that adds a touch of elegance to any occasion. Don't miss the chance to experience this remarkable tequila. Order your bottle today and savor the artistry of Codigo 1530. Cheers to a tequila experience that breaks the mold!