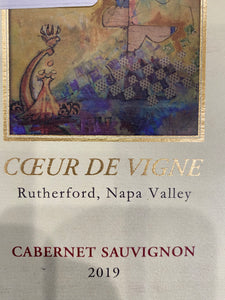 Introducing Coeur de Vigne Cabernet Sauvignon, a captivating red wine that embodies the essence of the noble Cabernet Sauvignon grape. Crafted with care and precision, this wine represents the culmination of vineyard expertise, meticulous winemaking, and a deep appreciation for the art of wine.
Coeur de Vigne Cabernet Sauvignon originates from carefully selected vineyards known for their ideal terroir and exceptional grape quality. The grapes are hand-harvested at their optimal ripeness, ensuring the full expression of their varietal characteristics.
In the cellar, the grapes undergo a gentle and careful vinification process. The juice is fermented at controlled temperatures to preserve the vibrant fruit flavors and aromatic intensity. The wine is then aged in oak barrels, allowing it to develop additional complexity and a refined structure.
The result is a wine of striking elegance and depth. Coeur de Vigne Cabernet Sauvignon displays a deep, garnet-red color, enticing the eye with its vibrancy. On the nose, it reveals inviting aromas of blackcurrants, ripe blackberries, and a touch of cedar, intertwined with subtle hints of vanilla and spice.
The palate is treated to a symphony of flavors, with luscious dark fruits taking center stage. The blackcurrant and blackberry notes are complemented by nuances of plum, dark chocolate, and a hint of tobacco, all supported by fine-grained tannins that add structure and balance. The wine's velvety texture and well-integrated oak provide a seamless and satisfying finish.
Coeur de Vigne Cabernet Sauvignon is a wine that can be enjoyed on its own or paired with a variety of dishes. It beautifully complements grilled meats, hearty stews, and aged cheeses, enhancing the flavors of the cuisine with its depth and character.
With every sip of Coeur de Vigne Cabernet Sauvignon, you embark on a sensory journey through the world of fine wine. It is a testament to the passion, craftsmanship, and dedication of the winemakers, showcasing the true expression of the Cabernet Sauvignon grape and the artistry that goes into creating a remarkable wine.