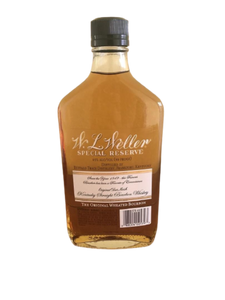 Although the appearance of W.L. Weller Special Reserve Kentucky Straight may seem simplistic, do not be deceived. This bourbon is highly coveted and sought after by whiskey enthusiasts everywhere, and for a good reason. Produced by the talented distillers at Buffalo Trace, W.L. Weller Reserve offers a whiskey experience that is both alluring and enveloping, with flavors and aromas that are simply heavenly.
The fragrance of this bourbon is a delight to the senses, with notes of rich caramel, roasted corn, fine leather, and plump plums smoked in pipe tobacco. The first sip is a revelation, with lazy ribbons of toffee, sweet marshmallow, and sea salt almonds dancing over soft nougat and dark figs on the tongue. The experience is so delightful that you'll want to indulge in this idolized sipping bourbon time and time again, transported to new heights of rich whiskey tones.
The finish of W.L. Weller Special Reserve is truly unforgettable, leaving a lingering sweetness and a sinfully sweet caramel smoke that will kiss your very skin. This bourbon is a masterpiece, one that will entice and delight even the most discerning whiskey connoisseurs with its ethereal proportions and complex flavors. So, do not be fooled by its appearance; W.L. Weller Special Reserve is a true gem that deserves a place in any whiskey lover's collection.