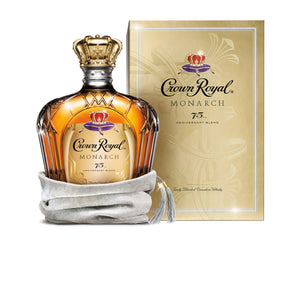 The Crown Royal Monarch 75th Anniversary Blended Canadian Whisky is a prestigious expression that commemorates three-quarters of a century of Crown Royal's exceptional craftsmanship and heritage in producing fine Canadian whisky.

Crafted in celebration of a significant milestone, this limited edition release is a testament to the brand's legacy. The Monarch 75th Anniversary Blend likely features a meticulous selection of the finest whiskies from Crown Royal's extensive reserves, showcasing the mastery of blending and aging.

As you pour a glass, you can anticipate an inviting amber hue that hints at the richness and complexity within the whisky. The aroma is likely a harmonious blend of oak, vanilla, caramel, and subtle hints of dried fruit, offering an enticing bouquet that reflects the depth of aging and blending expertise.

On the palate, the Crown Royal Monarch 75th Anniversary Blend is expected to deliver a luxurious and velvety-smooth experience. You might encounter flavors of rich caramel, dark fruit, toasted oak, and delicate spices, harmoniously balanced to create a sophisticated and memorable taste profile.

This special edition release of Crown Royal represents a tribute to the brand's tradition and commitment to producing exceptional Canadian whisky, making it a highly sought-after and collectible expression among enthusiasts and connoisseurs.

For those fortunate enough to acquire a bottle, savoring it neat or with a few drops of water to unlock its full character is recommended. It's an opportunity to celebrate the legacy and craftsmanship of Crown Royal while enjoying a remarkable and limited edition whisky. Cheers to the 75th Anniversary and the excellence of Crown Royal Monarch!