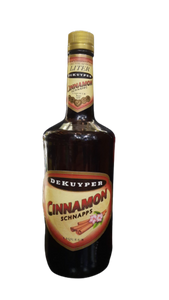 Dekuyper Cinnamon Schnapps is a delicious and versatile liqueur that captures the warm and spicy flavor of cinnamon in every sip. It is crafted from a blend of natural cinnamon flavor and pure grain alcohol, giving it a bold and distinctive taste that is perfect for mixing in a variety of cocktails.
With its rich, amber color and inviting aroma, Dekuyper Cinnamon Schnapps is the ideal liqueur for adding a touch of warmth and sweetness to any drink. It can be enjoyed on its own, over ice, or used as a key ingredient in popular cocktails like the Hot Toddy, the Cinnamon Toast Crunch, and the Cinnamon Apple Pie.
Dekuyper Cinnamon Schnapps has a smooth and creamy texture that coats the palate with a luxurious blend of spicy and sweet flavors. It is perfect for sipping on a cold winter night or as a special ingredient to add a little extra kick to your favorite recipes.
Whether you're looking to add some warmth and flavor to your favorite cocktail or simply want to indulge in a deliciously smooth and spicy liqueur, Dekuyper Cinnamon Schnapps is the perfect choice. With its rich and complex flavor profile, it is sure to become a favorite among cinnamon lovers everywhere.