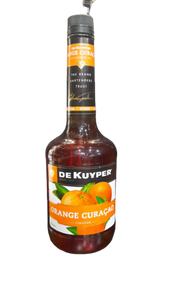 DeKuyper Orange Curacao is a premium liqueur that offers a unique and delicious blend of sweet and bitter orange flavors. This vibrant orange liqueur is made from a blend of natural orange distillates, aromatic herbs, and spices that are carefully selected and blended to create a perfectly balanced and delicious taste.
Orange Curacao has a bright, orange color that is indicative of its fresh and natural ingredients. It has a rich and complex flavor profile that is both sweet and bitter, making it a versatile ingredient in a wide range of cocktails and mixed drinks.
DeKuyper Orange Curacao is perfect for adding a touch of orange flavor to your favorite cocktails. It is commonly used in classic recipes like the Margarita, the Mai Tai, and the Cosmopolitan. It can also be used to add a unique twist to traditional cocktails or to create new and innovative drinks.
In addition to its great taste, DeKuyper Orange Curacao is also highly versatile and can be used in a variety of cooking and baking applications. It can be used to add a sweet and citrusy flavor to cakes, cookies, and other desserts.
Overall, DeKuyper Orange Curacao is a premium liqueur that delivers a delicious and unique taste experience. Whether you're a professional bartender or simply a cocktail enthusiast, this versatile liqueur is a must-have for your home bar or kitchen.