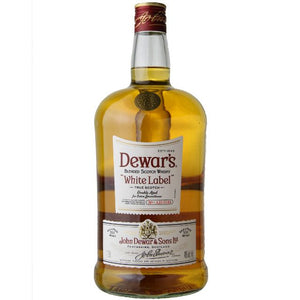 Dewar's White Label Blended Scotch Whiskey is a classic and well-known blended Scotch whiskey produced by Dewar's, one of the most respected names in the Scotch whiskey industry. It is a blend of up to 40 different single malt and grain whiskies, each aged for a minimum of three years in oak casks.
Dewar's White Label has a smooth and balanced taste with notes of honey, vanilla, and oak, making it an excellent choice for both sipping and mixing into cocktails. It has a medium-bodied profile and a gentle finish, with a hint of smokiness that is characteristic of many Scotch whiskies.
The whiskey is bottled at 40% ABV (alcohol by volume) and is sold in various sizes, from miniatures to larger bottles. It is a versatile and accessible Scotch whiskey that can be enjoyed by both whiskey enthusiasts and casual drinkers.
Dewar's is a well-established brand with over 150 years of experience in the whiskey industry, and their commitment to quality is reflected in the smooth and consistent taste of Dewar's White Label Blended Scotch Whiskey.