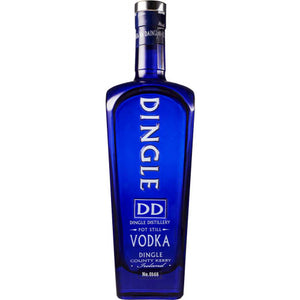 Over two centuries ago, Ireland boasted over a hundred officially recognized distilleries. However, in present times, there are less than ten. Dingle, Ireland's pioneer artisan distillery, takes its name from the town where it is situated - a popular tourist destination, famous as Europe's westernmost human settlement. In 2012, Dingle established its distillery by converting an old sawmill, which combines traditional methods of independent distilling with innovative processes, unique to small batch producers.
Dingle's humid climate, coupled with the cool gulf stream breezes, is ideal for spirit distillation. Oliver Hughes, a restaurateur who envisioned capturing the terroir of Kerry County, purchased a traditional pot still designed by Master Distiller John McDougall. He christened the hand-beaten copper pot still "Oisin" and began producing Ireland's first small-batch vodka, gin, and whiskey.
Crafted in small batches of 500 liters, Dingle Vodka prioritizes purity above all else. The premium grain alcohol undergoes quintuple distillation and charcoal filtration, followed by cutting with water from a well situated 240 feet below the distillery, and finally bottled by hand. This makes it one of the few vodkas produced within Ireland.
Dingle Vodka is a high-quality, neutral grain spirit with a creamy texture and subtle sweetness that makes it a delightful drink, whether sipped neat or shaken in a cocktail.
At the 2015 Irish Whiskey Awards, Dingle was awarded the title of the best vodka in Ireland. Pick up a bottle today to discover why Dingle Vodka is revered as one of the finest vodkas in the world.