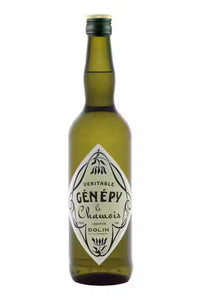 Dolin Genepy le Chamois Liqueur is a premium herbal liqueur that is made using a unique blend of aromatic alpine herbs, including the special herb called genepi, which is grown only in the high altitude mountains of the French and Italian Alps. It is produced by Dolin, a respected and traditional French distillery known for its commitment to quality and artisanal production methods.

This liqueur has a vibrant, herbaceous aroma and a bold, complex flavor that is both bitter and sweet. The genepi herb provides a distinctive and slightly bitter flavor profile that is balanced by the sweetness of the other herbs used in the recipe. The liqueur has a velvety texture that coats the palate, and a long, smooth finish.

Dolin Genepy le Chamois Liqueur can be enjoyed on its own, served chilled or over ice, or as a base for cocktails. It is particularly well-suited to cocktails that feature herbal or bitter ingredients, such as the Negroni or the Manhattan.

The liqueur comes in an elegant and classic bottle that reflects the premium quality of the liqueur inside. It is a must-try for anyone who appreciates the unique and complex flavors of artisanal herbal liqueurs, and is a favorite of bartenders and mixologists who value high-quality ingredients and authentic flavors.