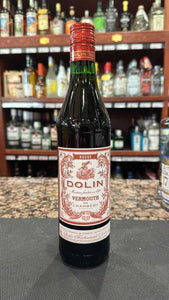 Introducing the Dolin Vermouth de Chambery Rouge – a French classic that adds a touch of sophistication to your cocktail experience. Exclusively available at Folsom Wine & Spirits, this exceptional vermouth is a tribute to the legacy of Dolin, a brand that has been perfecting the art of vermouth production for generations. Allow us to take you on a journey through the vibrant world of vermouth with this red gem.

The Dolin Vermouth de Chambery Rouge arrives in a beautifully designed bottle, a reflection of the timeless elegance and craftsmanship that goes into every drop of this vermouth. As you unseal the bottle, an inviting aroma fills the air, teasing your senses with the essence of sweet herbs, hints of dried fruits, and a touch of spice. It's a prelude to the depth and complexity that awaits your palate.

The first sip is a revelation, as the Dolin Vermouth de Chambery Rouge graces your taste buds with a rich, velvety texture. You'll encounter a symphony of flavors, from sweet caramel and bitter herbs to a subtle undertone of dried cherries. This vermouth is a true embodiment of balance and depth, showcasing the craftsmanship that Dolin has perfected over the years.

The finish is long and satisfying, leaving you with a warm and lingering embrace. Dolin Vermouth de Chambery Rouge is an essential addition to your collection if you're a seasoned cocktail enthusiast or new to the world of vermouth. It offers a unique opportunity to own a piece of the Dolin legacy, and Folsom Wine & Spirits is proud to be your source for this exceptional vermouth.

Elevate your cocktail game with the Dolin Vermouth de Chambery Rouge and toast to the sophistication, heritage, and tradition that this French classic represents. Secure your bottle today and raise your glass to a world of unparalleled flavor and refinement. Cheers to the art of vermouth!