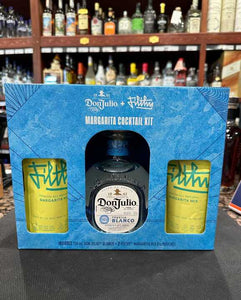 Introducing the Don Julio Margarita Cocktail Kit - Unleash the Ultimate Margarita Experience!

Elevate your cocktail game with the Don Julio Margarita Cocktail Kit, curated to bring the vibrant spirit of Mexico's finest tequila into the comfort of your home. This all-inclusive kit features everything you need to craft the perfect Margarita, ensuring an unforgettable drinking experience for you and your guests.

Don Julio Blanco Tequila: At the heart of this kit lies the star of the show - Don Julio Blanco Tequila. Made from the finest 100% blue agave, this premium tequila sets the foundation for an exceptionally smooth and authentic Margarita.

Handcrafted Margarita Mix: We've carefully crafted a top-quality Margarita mix to complement the tequila's natural flavors. Bursting with the tangy sweetness of fresh limes and a touch of orange liqueur, this mix promises to deliver a well-balanced and tantalizing Margarita every time.

Salt Rimmer and Garnish: Elevate the presentation of your Margarita with the included salt rimmer, adding that perfect touch of saltiness to each sip. Complete your cocktail with a garnish of fresh lime wedges for that extra zing.

Easy-to-Follow Recipe: Our kit comes with a simple and straightforward recipe, guiding you through the steps to create a Margarita that rivals those served at the best cocktail bars. Whether you're a seasoned mixologist or a first-time cocktail enthusiast, crafting the perfect Margarita has never been easier.

Premium Packaging: The Don Julio Margarita Cocktail Kit is elegantly packaged, making it an ideal gift for tequila lovers or a special treat for yourself. Its stylish design and premium components exude luxury and sophistication.

Unleash the vibrant flavors of Mexico's most iconic cocktail with the Don Julio Margarita Cocktail Kit. Embrace the spirit of celebration and create memorable moments with each sip of this classic cocktail. Bring the fiesta to your home and indulge in the true essence of a perfect Margarita with Don Julio - where craftsmanship meets tradition in every drop. Salud!