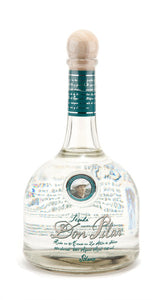 Don Pilar Blanco Tequila is a premium Mexican spirit with a clean and crisp flavor. It is made from 100% blue Weber agave grown in the highlands of Jalisco, Mexico.
The tequila is unaged and bottled immediately after distillation, which gives it a crystal-clear color and a fresh, vibrant taste. On the nose, it offers aromas of citrus, pepper, and fresh agave, with hints of herbal notes.
On the palate, the tequila is smooth and well-balanced, with flavors of citrus, pepper, and fresh herbs. It has a refreshing acidity and a clean, crisp finish with a subtle hint of sweetness.
Overall, Don Pilar Blanco Tequila is a high-quality spirit that is perfect for sipping on its own or mixing in cocktails. It pairs well with light, fresh dishes, such as ceviche and salads. This tequila is a great choice for those who appreciate the bright, fresh flavors and aromas of a high-quality blanco tequila.