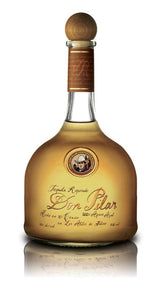 Don Pilar Reposado Tequila is a premium Mexican spirit with a distinctive flavor and aroma. It is made from 100% blue Weber agave grown in the highlands of Jalisco, Mexico.
The tequila is aged in American oak barrels for a minimum of six months, which gives it a golden color and a smooth, rounded taste. On the nose, it offers aromas of vanilla, caramel, and oak, with hints of cooked agave.
On the palate, the tequila is smooth and mellow, with flavors of cooked agave, vanilla, and toasted oak. It has a pleasant sweetness and a slight hint of spice, which lingers on the finish.
Overall, Don Pilar Reposado Tequila is a high-quality spirit that is perfect for sipping on its own or mixing in cocktails. It pairs well with spicy dishes, grilled meats, and desserts. This tequila is a great choice for those who appreciate the rich flavors and aromas of a well-aged spirit.