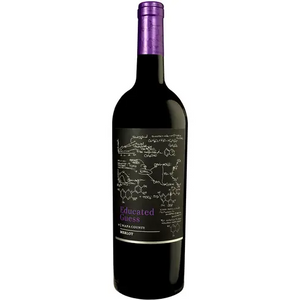 The Educated Guess Merlot is a premium red wine that offers a rich and complex taste with a smooth finish. It has a deep garnet color and a captivating aroma of ripe blackberry, plum, and cherry, with subtle hints of vanilla, cedar, and spice. On the palate, this Merlot is full-bodied and well-structured, with bold flavors of dark fruit, such as black cherry, blackberry, and currant, that are complemented by notes of cocoa, tobacco, and toasted oak.
The grapes used in making this wine are sourced from some of the finest vineyards in the Napa Valley region, where the ideal climate and soil conditions allow the grapes to fully ripen and develop their unique flavors. After harvesting, the grapes are fermented in small batches and aged for 18 months in French and American oak barrels, which gives the wine its rich and complex flavor profile.
The Educated Guess Merlot is a versatile wine that pairs well with a wide range of dishes, including grilled meats, roasted vegetables, and hearty stews. It is also a great wine to enjoy on its own or with friends and family. This Merlot is ready to drink now, but it can also be aged for several years to allow its flavors and aromas to fully mature. With its impeccable balance and depth, the Educated Guess Merlot is a true testament to the art of winemaking.