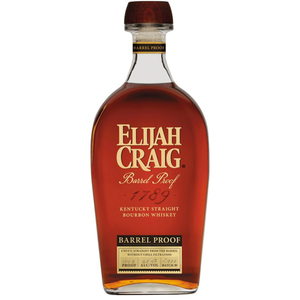 Indulge in the rich complexity and robust character of Elijah Craig Small Batch C922 Barrel Proof Bourbon Whiskey. This exceptional bourbon is a true testament to the art of small-batch production, showcasing the heritage and craftsmanship of Kentucky whiskey-making.

Elijah Craig Small Batch C922 Barrel Proof Bourbon is a celebration of dedication and precision, with each batch meticulously crafted to deliver an unparalleled bourbon experience. From the moment you pour a glass, you'll be captivated by its deep amber hue, a visual representation of the bourbon's aging process and bold character.

The aroma is a symphony of inviting scents, with notes of caramel, vanilla, and a subtle hint of oak, promising a sensory journey that's both intriguing and indulgent. On the palate, you'll savor a harmonious medley of flavors, featuring butterscotch, dark fruit, and a gentle spice, creating a rich and complex profile. The finish is long and satisfying, leaving you with a warm and memorable impression that lingers.

Elijah Craig Small Batch C922 Barrel Proof Bourbon Whiskey is more than just a whiskey; it's a tribute to the dedication and artistry of Kentucky bourbon-making. Whether you're a seasoned bourbon enthusiast or someone eager to explore the world of American whiskey, this small-batch bourbon is a must-have addition to your collection. It embodies the heritage and precision of Kentucky whiskey production, where every drop is a testament to the passion and skill of the distiller. Order your bottle today from Folsom Wine & Spirits and savor the authentic, bold taste of Elijah Craig Barrel Proof Bourbon. Cheers to the extraordinary!