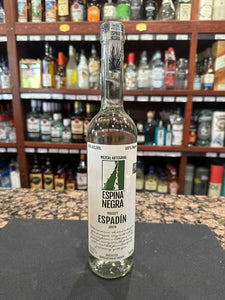 Dive into the captivating world of mezcal with Espina Negra Tepeztate Mezcal, a spirit that embodies the heart and soul of traditional craftsmanship. Hailing from the mystical lands of Mexico, this exceptional mezcal is a tribute to the ancient art of distillation, a celebration of tradition, and an exploration of unique flavors. Espina Negra Tepeztate Mezcal is more than just a drink; it's a journey through time, a revival of age-old techniques, and a tribute to the purity of agave.

This mezcal's journey begins with the selection of the revered Tepeztate agave, a unique and cherished variety known for its complex flavors. Hand-harvested by local maestros mezcaleros, the agaves are slow-cooked in traditional earthen pits, infusing them with a smoky essence that captures the essence of the rugged terrains where they grow. The traditional process ensures the spirit's authenticity, and only the finest agaves make it into every bottle.

Pouring a glass of Espina Negra Tepeztate Mezcal reveals its crystal-clear clarity, an invitation to explore the depth of its character. The aroma is a captivating blend of earthy agave, smoky notes, and hints of wild herbs, promising a tasting experience that's as fascinating as it is inviting.

On the palate, this mezcal unveils a beautifully balanced profile. The taste is bold and sophisticated, with the sweet and earthy character of the Tepeztate agave, complemented by the subtle smokiness and the distinctive herbal notes. It offers a complex, layered sensation that's perfect for sipping neat or crafting unique cocktails that showcase its unique flavors.

The finish is gratifyingly long and satisfying, leaving you with the memory of a well-crafted mezcal that's meant to be savored. Espina Negra Tepeztate Mezcal is more than just a spirit; it's a tribute to the art of distillation, a symbol of craftsmanship, and a toast to the ancient traditions of mezcal production. At Folsom Wine & Spirits, we are honored to offer this exceptional mezcal to our esteemed customers, who seek nothing but the best. Secure your bottle today and elevate your spirits collection with the unparalleled essence of Espina Negra Tepeztate Mezcal, one sip at a time.