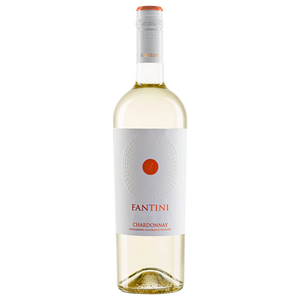 Fantini Chardonnay is a white wine made from 100% Chardonnay grapes grown in the Abruzzo region of Italy. This wine is pale yellow in color and offers a bouquet of aromas that include citrus, green apple, and tropical fruits such as pineapple and banana.
On the palate, Fantini Chardonnay is crisp and refreshing with a balanced acidity and a medium-bodied texture. Flavors of ripe tropical fruits are present, along with notes of vanilla and a hint of oak that comes from the wine's brief aging in French oak barrels.
This wine is best served chilled and is an excellent complement to seafood, shellfish, and poultry dishes. It is also a great wine to enjoy on its own, as a refreshing and easy-drinking option. Whether it's for a casual meal or a special occasion, Fantini Chardonnay is a versatile and delicious choice.