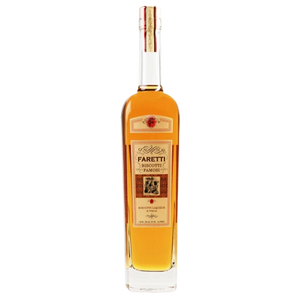 Faretti Biscotti Famosi Liqueur is a premium Italian liqueur that combines the delicious taste of biscotti with the smoothness of a liqueur. It is made with a blend of premium ingredients, including almonds, vanilla, and hints of anise, to create a unique and indulgent flavor.
The rich and creamy texture of Faretti Biscotti Famosi Liqueur is complemented by its warm and inviting aroma, which is reminiscent of freshly baked biscotti. On the palate, it offers a balanced blend of sweet and nutty flavors, with hints of vanilla and spices that linger on the finish.
Faretti Biscotti Famosi Liqueur can be enjoyed on its own, either chilled or at room temperature, as a decadent after-dinner treat or paired with your favorite dessert. It is also a great addition to cocktails, adding a rich and indulgent touch to classic drinks like the White Russian or Espresso Martini.
Overall, Faretti Biscotti Famosi Liqueur is a premium and versatile liqueur that is perfect for those who enjoy the taste of biscotti or are looking for a unique and indulgent addition to their liquor cabinet. Its rich and complex flavor profile makes it a must-try for anyone looking for a delicious and satisfying after-dinner drink.