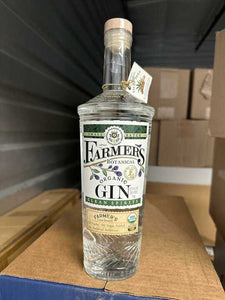 Introducing Farmers Botanical Organic Gin – a captivating union of nature's finest botanicals and artisanal distillation. Crafted with care by dedicated farmers turned distillers, this gin embodies the essence of organic cultivation and timeless craftsmanship, resulting in a spirit that is both vibrant and sophisticated.

Farmers Botanical Organic Gin is a tribute to the earth's bounty and the dedication of those who cultivate it. Rooted in the principles of organic farming, this gin represents a commitment to sustainable practices and a harmonious relationship with the land. The result is a gin that not only delivers exceptional flavor but also reflects the spirit of responsible stewardship.

From the first sip, you'll be transported to a garden of botanical delights. The well-balanced blend of juniper, citrus, and carefully selected herbs and spices creates a harmonious symphony on the palate. Each botanical has been meticulously chosen to enhance the gin's complexity, resulting in a flavor profile that is both invigorating and layered.

Upon nosing, Farmers Botanical Organic Gin reveals a bouquet of enticing aromatics. The juniper takes center stage, accompanied by the fresh scents of citrus zest and a delicate herbaceousness. The aromatic journey invites you to explore the diverse botanical tapestry that defines this gin.

Farmers Botanical Organic Gin unfolds on the palate with grace and intrigue. The juniper's signature piney and resinous notes are met with the zesty brightness of citrus peel, creating a harmonious balance. As the gin develops, hints of coriander, angelica, and other botanicals dance on the taste buds, revealing layers of complexity that evolve with every sip.

The finish of Farmers Botanical Organic Gin is a testament to its craftsmanship. The botanical medley lingers, leaving a gentle, herb-infused trail. The gin's exceptional smoothness and delicate herbal notes make for a satisfying conclusion that invites reflection and appreciation for the meticulous attention to detail that has gone into its creation. Presented in a thoughtfully designed bottle, Farmers Botanical Organic Gin's packaging reflects the spirit of its origins. The label's earthy tones and botanical motifs pay homage to the natural world, while the overall presentation exudes a rustic elegance that sets it apart on any shelf.

Farmers Botanical Organic Gin is more than a libation—it's an embodiment of organic principles, a nod to the farmers' dedication, and an invitation to savor the pure essence of the land. With each sip, you're invited to explore the flavors of nature's garden and appreciate the artisans who bring it to life. Experience the harmonious fusion of nature and craft with Farmers Botanical Organic Gin today.