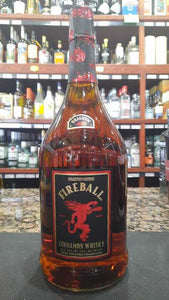 Fireball Cinnamon Whisky offered various limited editions and collector's items. These special editions often came in unique packaging or included collectible items alongside the whiskey itself, appealing to enthusiasts and collectors.

Fireball Cinnamon Whisky is known for its spicy and sweet cinnamon flavor, making it a popular choice for shots and cocktails. The collector's editions might have included special packaging, glassware, or other branded items that add to the overall appeal for collectors or fans of the brand.

If you're interested in a specific Fireball Cinnamon Whisky Collector's Edition, I'd recommend checking with local liquor stores, online retailers, or the official Fireball website for any recent releases or available limited editions. Often, these editions are produced in limited quantities and may vary in availability based on location and timing.

Keep an eye out for announcements or releases from Fireball to discover any new or special collector's editions that might be available. They can offer unique experiences and collectible items for enthusiasts who enjoy the brand's distinct cinnamon whiskey.