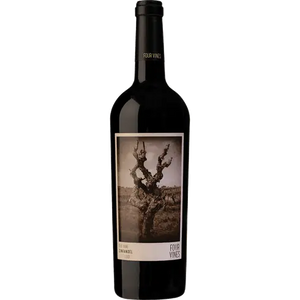 Four Vines Zinfandel Lodi is a rich and full-bodied wine that showcases the best of California's Lodi region. Made from 100% Zinfandel grapes, sourced from some of the finest vineyards in the area, this wine is carefully crafted by Four Vines' experienced winemakers.
This Zinfandel has a deep ruby color with a complex aroma that combines notes of blackberry, raspberry, and cherry, with hints of vanilla and spice. On the palate, it is full-bodied and rich, with flavors of dark fruit, including blackberry and black cherry, supported by well-structured tannins and a subtle acidity. The wine has a long, smooth finish that leaves a pleasant aftertaste.
Four Vines Zinfandel Lodi pairs well with a variety of dishes, including grilled meats, pasta with tomato-based sauces, and aged cheeses. It is also an excellent wine to enjoy on its own, with friends and family, or as an after-dinner treat. This wine should be served slightly below room temperature and can be enjoyed immediately or aged for several years to allow the flavors to mature and deepen even further.