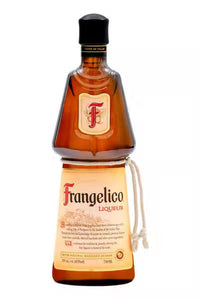 Frangelico Hazelnut Liqueur is a luxurious and deliciously nutty liqueur that is sure to delight your taste buds. Made with the finest hazelnuts from the Italian region of Piedmont, this premium liqueur offers a unique and indulgent taste experience that is perfect for sipping on its own or as a key ingredient in a wide range of cocktails and desserts.
The rich and smooth flavor of Frangelico Hazelnut Liqueur is created through a delicate blend of roasted hazelnuts, cocoa, vanilla, and other secret ingredients, resulting in a complex and nuanced taste that is truly one-of-a-kind. The unique bottle design, modeled after a Franciscan friar, adds to the luxurious experience of enjoying Frangelico Hazelnut Liqueur.
Whether you're relaxing at home, enjoying a night out, or entertaining guests, Frangelico Hazelnut Liqueur is the perfect way to indulge your senses and elevate your drinking experience. Try it as an after-dinner drink or use it as a versatile ingredient in a variety of cocktails, from classic favorites to modern creations.
So why wait? Treat yourself to the decadent and indulgent taste of Frangelico Hazelnut Liqueur today and discover why it's one of the world's most beloved liqueurs.