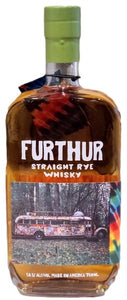 Furthur Straight Rye Whisky is a premium rye whisky that is carefully crafted using the highest quality ingredients and time-honored techniques. Made from a blend of rye, corn, and malted barley, this rye whisky is aged for a minimum of two years in charred oak barrels, resulting in a rich and complex flavor profile.
The aging process allows the rye whisky to develop deep flavors of spice, vanilla, and caramel, along with a subtle hint of smokiness. The smooth, velvety texture of the whisky makes it a delight to sip, while the bold flavors make it a standout choice for cocktails.
Furthur Straight Rye Whisky is perfect for those who appreciate the complex flavors of rye whisky. Its versatility makes it a great choice for cocktails, adding depth and complexity to classic cocktails like the Sazerac or the Manhattan. It can also be enjoyed neat or on the rocks, allowing the full range of flavors and aromas to be fully appreciated.
Overall, Furthur Straight Rye Whisky is a top-quality rye whisky that is sure to please even the most discerning whisky drinkers. Its bold flavors, smooth texture, and complex character make it a standout choice for any occasion.