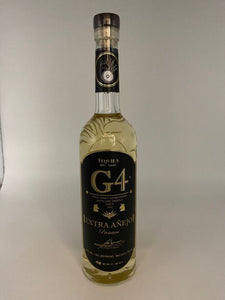 G4 Extra Anejo is a true gem among tequilas, showcasing the epitome of craftsmanship and dedication to the art of tequila production. Distilled in the heart of Jalisco, Mexico, this exceptional extra añejo tequila is the result of a meticulous process that spans five years, resulting in a spirit of unparalleled richness and complexity.
The journey begins with hand-selected mature blue Weber agave plants, cultivated in the mineral-rich soil of Jalisco's highlands. These agaves are patiently harvested, cooked in traditional brick ovens, and then crushed to extract the flavorful juice. The extracted juice is then fermented using naturally occurring yeast, a process that preserves the authentic essence of the agave.
After fermentation, the tequila is double-distilled in copper pot stills, carefully separating the hearts of the distillation for purity and quality. It is then aged in American oak barrels for a minimum of five years, allowing the flavors to mature and intensify, while gaining a deep amber hue.
G4 Extra Anejo tequila delights the senses with its captivating aroma. Notes of caramel, vanilla, and roasted nuts intertwine with hints of dried fruit and a delicate touch of spice, creating an enticing bouquet that invites you to take your first sip.
On the palate, this extra añejo tequila delivers a rich and velvety texture, coating the tongue with layers of indulgent flavors. The sweetness of caramel and butterscotch is balanced by the warm embrace of oak and hints of dark chocolate. The smooth and harmonious finish lingers, leaving a gentle warmth and a lasting impression of the tequila's exceptional quality.
G4 Extra Anejo tequila is the perfect choice for those seeking a truly remarkable sipping experience. Its complexity and depth make it ideal for savoring neat or on the rocks, allowing you to appreciate the artistry and dedication that goes into creating such a fine tequila.
Embrace the extraordinary with G4 Extra Anejo tequila, and elevate your tequila experience to new heights. Immerse yourself in the rich flavors, enticing aromas, and luxurious texture of this exceptional spirit. Discover why it stands as a testament to the artistry and passion of tequila production.