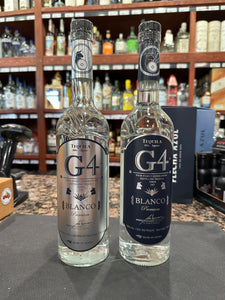 G4 108 Proof Blanco Tequila is a bold and masterfully crafted expression of the agave spirit. This high-proof blanco tequila captivates the senses with its intense flavor profile and uncompromising quality.

Crafted with meticulous attention to detail, G4 Tequila is produced using traditional methods and estate-grown agave plants. The result is a tequila that reflects the rich heritage and craftsmanship of Mexico's tequila-making tradition.

While G4 108 Proof Blanco Tequila can be enjoyed neat to appreciate its bold and complex flavors, it also serves as a versatile base for crafting cocktails that demand a tequila with character.

In summary, G4 108 Proof Blanco Tequila is a testament to the art of tequila production. Its boldness and intensity make it a favorite among tequila aficionados seeking a memorable and authentic agave spirit. Whether sipped or mixed, this tequila promises a powerful and spirited journey into the world of premium blanco tequila. Raise your glass and savor the robust flavors of G4 108 Proof Blanco Tequila.