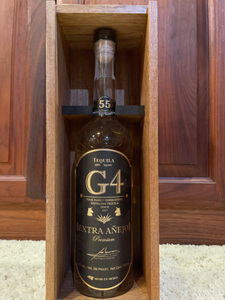 A rare limited 2018 release - 615.5 liters produced from 4 casks, less than 800 bottles. this one is missing the front plastic
Introducing G4 55 Extra Anejo Tequila - A Masterpiece of Aged Elegance

Discover the pinnacle of tequila craftsmanship with G4 55 Extra Anejo Tequila, a true testament to the artistry and dedication of its creators. Crafted with precision and aged to perfection, this exceptional spirit represents the culmination of centuries of tradition and innovation in tequila production.

Product Highlights:

Name: G4 55 Extra Anejo Tequila
Volume: 750ml

G4 55 Extra Anejo Tequila offers a sensory journey like no other. With each sip, you'll encounter a symphony of flavors and aromas that dance across your palate. This masterpiece boasts:

1. Rich Complexity: Delight in the deep, mahogany hue that entices the eye. The aroma is a blend of roasted agave, vanilla, and subtle oak, promising a luxurious tasting experience.

2. Velvety Texture: The first sip reveals a velvety smoothness, coating your mouth with flavors of caramel, toffee, and a hint of chocolate. The agave's sweet undertones shine through, providing a delightful contrast.

3. Prolonged Finish: The finish is a lingering crescendo of warmth and complexity, allowing you to savor the nuances of aged tequila long after each sip.

Aging Process:
G4 55 Extra Anejo Tequila is aged for an impressive 55 months (over 4 years) in American oak barrels. This extended aging process allows the tequila to mature and develop its distinctive character, making it one of the most exquisite extra anejo tequilas available.

This tequila is meticulously crafted using traditional methods, from hand-harvesting ripe agave plants to slow-roasting them in brick ovens. The resulting juice is fermented with natural yeasts and then distilled in small copper pot stills to ensure the highest quality and flavor profile.

G4 55 Extra Anejo Tequila is the ideal choice for celebrating life's most memorable moments or for indulging in a luxurious sip after a long day. Its elegance and complexity make it a worthy addition to any connoisseur's collection.

The 750ml bottle of G4 55 Extra Anejo Tequila is elegantly packaged, making it a beautiful gift for tequila enthusiasts and collectors. The attention to detail in both the liquid and the presentation truly sets this tequila apart.

Elevate your tequila experience to new heights with G4 55 Extra Anejo Tequila. With its rich, complex flavor profile and exceptional craftsmanship, it's a testament to the enduring tradition of tequila-making and the pursuit of perfection. Indulge in the extraordinary today.