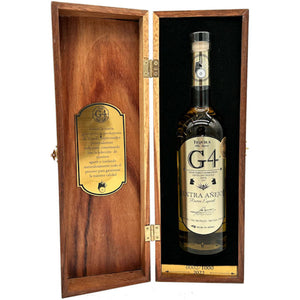 G4 6 Years Reserva Especial De Felipe Camarena Tequila Extra Anejo is an exceptional and aged tequila that showcases the expertise and craftsmanship of master distiller Felipe Camarena. This tequila is part of the G4 Tequila range, known for its dedication to quality and traditional production methods.
Aged for a remarkable six years, G4 Reserva Especial Extra Anejo is a true expression of patience and care. It is made from 100% blue agave, hand-harvested at its peak maturity from the highlands of Jalisco, Mexico. The agave hearts, or piñas, are slow-roasted in traditional brick ovens, extracting the sweet and rich flavors of the agave.
After fermentation with natural yeast, the tequila is distilled in small copper pot stills to capture the essence of the agave. The resulting spirit is then aged for six years in charred oak barrels, allowing it to develop a deep and complex flavor profile.
In appearance, G4 Reserva Especial Extra Anejo boasts a rich amber color with golden highlights, indicative of its extended aging. On the nose, it offers an enticing bouquet of caramel, vanilla, toasted oak, and hints of dried fruit, exuding elegance and depth.
The taste experience of G4 Reserva Especial Extra Anejo is a harmonious symphony of flavors. It envelops the palate with luscious notes of butterscotch, dark chocolate, roasted nuts, and a touch of cinnamon. The velvety smooth texture adds to the luxurious drinking experience, while the long, lingering finish leaves a delightful warmth and a memory of its exceptional character.
G4 6 Years Reserva Especial De Felipe Camarena Tequila Extra Anejo is a testament to the dedication and passion of Felipe Camarena and the Camarena family, who have been producing tequila for generations. It represents the pinnacle of aged tequila, offering connoisseurs and enthusiasts a truly remarkable sipping experience.