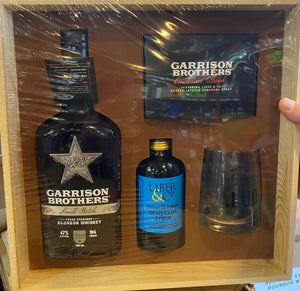 Wooden Box with mixers and glass.
Discover the ultimate expression of Texas craftsmanship with the Garrison Brothers Small Batch Gift Box. This thoughtfully curated set is a celebration of exceptional bourbon and a testament to the dedication that goes into every bottle from Garrison Brothers Distillery.

Uncompromising Quality: Inside this beautifully designed gift box, you'll find a bottle of Garrison Brothers Small Batch Bourbon that exemplifies the distillery's unwavering commitment to quality. Each sip tells a story of carefully selected grains, meticulous distillation, and patient aging – a true embodiment of Texas terroir.

Bold and Distinctive: As you pour a glass, you'll be greeted by a rich amber hue that promises depth and character. The aroma unfolds with notes of caramel, vanilla, and hints of toasted oak, inviting you to explore the complex layers that lie ahead.

Flavorful Journey: A taste of Garrison Brothers Small Batch Bourbon is an adventure for your palate. Indulge in flavors of honeyed sweetness, intertwined with nuances of dark chocolate and warm spices. The bourbon's smooth and velvety texture enhances every sip, making it perfect for savoring neat or crafting exquisite cocktails.

Lasting Impression: The finish is a testament to the distillery's dedication to excellence. It lingers gracefully, leaving behind a harmonious balance of sweetness and spice. The Garrison Brothers Small Batch Bourbon Gift Box captures the essence of Texas hospitality and craftsmanship in every drop.

Complete Experience: Presented in an elegantly designed gift box, this set is more than just a bottle of bourbon – it's a memorable experience waiting to be shared. Whether you're treating yourself or surprising a bourbon enthusiast, the Garrison Brothers Small Batch Gift Box is a true delight that encapsulates the spirit of Texas in every way.

Elevate your bourbon collection or gift someone a remarkable taste of Texas with the Garrison Brothers Small Batch Gift Box. It's a journey of flavors and a tribute to the artistry of bourbon-making that is sure to leave a lasting impression.