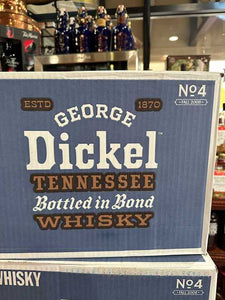 Introducing George Dickel Bottled in Bond Tennessee Whisky Batch No. 4, a true gem in the world of American spirits. Crafted with precision and passion, this remarkable whisky stands as a testament to the legacy and tradition of George Dickel's distillery. As one of Tennessee's oldest and most respected distilleries, George Dickel has consistently delivered exceptional quality, and Batch No. 4 is no exception.

This Bottled in Bond release is the fourth in a series of limited-edition expressions, and it continues to redefine the standards of excellence in the whisky industry. To earn the prestigious "Bottled in Bond" label, this whisky has met stringent requirements set forth by the United States government. It was distilled during a single season, at a single distillery, aged for a minimum of four years, and bottled at precisely 100 proof (50% ABV). This meticulous process ensures that every sip of George Dickel Batch No. 4 is nothing short of extraordinary.

The nose of this Tennessee whisky tantalizes with rich, warm aromas of caramel, vanilla, and toasted oak. On the palate, you'll be greeted by a harmonious blend of sweet honey, butterscotch, and a gentle touch of spice, making for a velvety, full-bodied experience. The finish is long and satisfying, leaving you with a delightful warmth that lingers, inviting you to savor every moment.

George Dickel Bottled in Bond Tennessee Whisky Batch No. 4 is the embodiment of craftsmanship and dedication. Whether you're a seasoned whisky connoisseur or a novice looking to explore the world of American whisky, this exceptional release is a must-have for your collection. It's perfect for sipping neat, on the rocks, or as the star of your favorite whisky cocktail. So, don't miss out on this opportunity to own a piece of Tennessee's proud whisky heritage. Order your bottle today from Folsom Wine & Spirits and experience the unparalleled quality of George Dickel Batch No. 4 for yourself. Cheers to perfection in a glass!