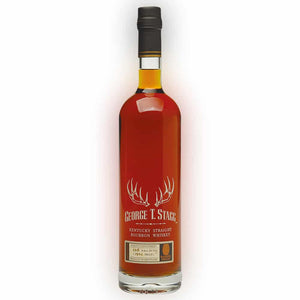 Introducing the 2022 George T. Stagg Straight Bourbon Whiskey 750ml – a true legend in the world of American bourbon. Crafted with an uncompromising commitment to quality and tradition, this bottle represents the pinnacle of bourbon excellence.

George T. Stagg is synonymous with exceptional bourbon, and the 2022 release upholds this prestigious legacy. Distilled and bottled at the Buffalo Trace Distillery, it stands as a testament to the artistry and dedication of their master distillers.

This bourbon offers an intensely rich and complex flavor experience. With each sip, you'll encounter a symphony of flavors, including deep caramel, dark chocolate, and a warm spiciness that dances on your palate. The high proof amplifies the depth and intensity, creating a truly unforgettable tasting journey.

Despite its boldness, the George T. Stagg Straight Bourbon Whiskey 2022 maintains a remarkable smoothness. The finish is long and satisfying, leaving you with a gentle warmth and a lingering memory of its unparalleled depth of character.

Housed in a beautifully designed 750ml bottle, this bourbon reflects the tradition and heritage that go into crafting every drop. The label showcases the iconic George T. Stagg logo, making it a handsome addition to your liquor collection.

Due to its limited availability and reputation for excellence, the 2022 George T. Stagg Straight Bourbon Whiskey is a highly sought-after collector's item. Whether you're a seasoned bourbon enthusiast or new to the world of whiskey, this bottle represents a chance to own a piece of bourbon history.

Elevate your bourbon experience with the 2022 George T. Stagg Straight Bourbon Whiskey 750ml. It's a testament to the enduring craftsmanship and unwavering commitment to quality that defines the Buffalo Trace Distillery. Secure your bottle today and savor the exceptional richness and complexity that only George T. Stagg can deliver.