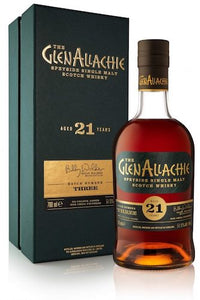 Glenallachie 21 Year Old Batch No. 3 is a premium single malt scotch whisky that has been aged for a minimum of 21 years in oak barrels, resulting in a rich and complex flavor profile. This 700ml bottle is a limited edition release, with only a small number of bottles available.
This whisky has a deep amber color and a complex aroma, with notes of dark fruit, vanilla, and oak. On the palate, you'll notice a burst of flavors including toffee, honey, and a hint of spice. The finish is long and satisfying, with a pleasant sweetness that lingers.
What sets this whisky apart is its artisanal production process, which involves using only the highest quality barley and water sourced from the Scottish Highlands. The whisky is then aged in a combination of ex-bourbon and ex-sherry casks, giving it a unique flavor profile that cannot be replicated.
Overall, Glenallachie 21 Year Old Batch No. 3 is a truly exceptional whisky that is perfect for sipping and savoring on its own, or paired with your favorite cheese or chocolate. Its limited availability and complex flavor profile make it a must-try for any whisky enthusiast.