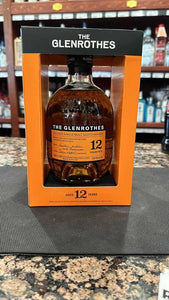 The Glenrothes 12 Year Old Single Malt Scotch Whisky is a delightful expression of Speyside whisky making, characterized by its rich fruitiness and elegant balance. Maturing exclusively in sherry-seasoned oak casks, the spirit acquires a depth of flavor that is both complex and harmonious.

On the nose, the Glenrothes 12 Year Old opens with enticing aromas of banana, lemon, and melon, intermingling with subtle hints of cinnamon. Delicate notes of vanilla and honey dance amidst a whisper of oak, creating a captivating first impression.

The palate unveils a symphony of flavors, with banana and lemon notes taking center stage. A hint of cinnamon adds a touch of intrigue, while creamy vanilla and light oak provide a comforting foundation. The overall experience is one of refined elegance and balanced sweetness.

The finish lingers on the palate, leaving a lingering sweetness and a delicate touch of spice. The banana and lemon notes fade gracefully, leaving behind a lingering impression of ripe tropical fruit.

The Glenrothes 12 Year Old Single Malt Scotch Whisky is a true gem of Speyside whisky, and it is perfect for those who appreciate a sweet and fruity dram. It is also a great value for the money, as it is typically less expensive than many other age-statement whiskies.

If you are looking for a delicious and affordable sherry-matured whisky, then the Glenrothes 12 Year Old is a great option. It is sure to please even the most discerning whisky aficionado.