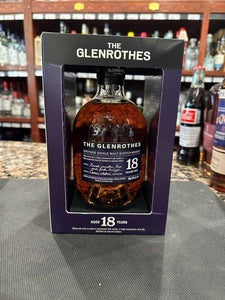 Nestled amidst the rolling hills of the Speyside region, Glenrothes, a name synonymous with exquisite single malt whiskies, has been crafting liquid gold for over a century. Their 18 Year Old Single Malt Scotch Whisky, a masterpiece of time and craftsmanship, stands as a testament to their unwavering commitment to excellence.

As the spirit journeys through its 18 years of maturation, it encounters the rich embrace of first-fill sherry casks, where it undergoes a transformative alchemy. The delicate essence of the barley, infused with the warmth of the casks, emerges with an unparalleled depth of flavor.

Upon the first encounter, the nose is greeted by a symphony of aromas, a harmonious blend of honeyed sweetness, vanilla pods, and a touch of citrus zest. Orange oil and pear notes dance delicately, intermingling with hints of almond and cinnamon.

The palate, a symphony of flavors, unfolds like a carefully orchestrated performance. Sweetness, radiating from the core of the spirit, mingles with ginger's warmth and a hint of rosewater. Pears and vanilla, the hallmark of Glenrothes, provide a comforting foundation, while subtle spices add a touch of intrigue.

The finish, a lingering symphony of flavors, lingers long after the last sip. Sweetness and spice intertwine, leaving an indelible mark on the palate. A whisper of peppery oak emerges, adding a touch of complexity to the overall experience.

The Glenrothes 18 Year Old Single Malt Scotch Whisky is more than just a beverage; it's an invitation to a world of refined elegance and unparalleled taste. It is a liquid embodiment of the distillery's dedication to craftsmanship and the Speyside region's rich whisky heritage. Each sip is a journey through time, a testament to the power of patience and the transformative magic of maturation.