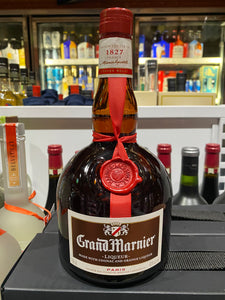 Introducing Grand Marnier Liqueur, a sophisticated and iconic blend of fine Cognac and bitter orange essence. This exquisite liqueur, crafted by the esteemed Maison Grand Marnier, embodies the perfect harmony between the depth of aged spirits and the vibrant zest of oranges.
Grand Marnier Liqueur captivates with its rich amber hue, hinting at the depth and complexity of flavors within. Upon opening the bottle, a symphony of aromas fills the air—a delicate fusion of Cognac's warmth and the bright essence of sun-ripened oranges.
With each sip, you'll experience the luxurious combination of smooth Cognac and the distinctive bitterness of oranges, beautifully balanced with a subtle sweetness. The silky texture and velvety mouthfeel create a truly indulgent drinking experience, unveiling layers of flavors that dance on the palate.
Grand Marnier Liqueur is a versatile spirit, equally enjoyable on its own, over ice, or as a key ingredient in a wide range of cocktails. From the classic and timeless Grand Margarita to the elegant and sophisticated Sidecar, this liqueur adds a touch of elegance and complexity to any libation.
Whether sipped slowly or used to elevate your mixology creations, Grand Marnier Liqueur embodies the essence of luxury and craftsmanship. Each bottle represents the culmination of over 150 years of tradition and expertise, ensuring a memorable experience with every pour.
Indulge in the exceptional taste of Grand Marnier Liqueur and let it transport you to the sun-kissed orchards of the Mediterranean. Discover the perfect balance between the world of fine spirits and the vibrancy of oranges, making this liqueur an unforgettable addition to your drinks repertoire. Raise a glass to sophistication, tradition, and the art of indulgence with Grand Marnier Liqueur.