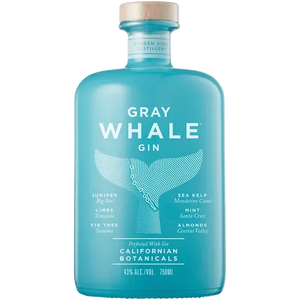 Gray Whale Gin is a premium handcrafted gin inspired by the majestic migration of the California gray whale. The gin is distilled in California using locally sourced botanicals, including hand-harvested juniper berries, kelp, and wildflowers, which give it a unique and refreshing flavor profile.
On the nose, Gray Whale Gin features bright and herbaceous notes, with hints of citrus and ocean mist. On the palate, the gin is smooth and complex, with a balanced blend of juniper, citrus, and floral notes that give way to a subtle briny finish.
This gin is perfect for sipping neat, but also makes an excellent base for cocktails. The environmentally conscious production process and the use of local ingredients make Gray Whale Gin a truly unique and sustainable spirit that captures the essence of California's coast. Whether you're a gin connoisseur or a casual drinker, Gray Whale Gin is sure to impress with its distinct flavor and commitment to sustainability.