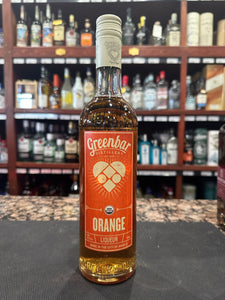 Greenbar Fruitlab Orange Liqueur is a premium, artisanal liqueur made from a blend of fresh, organic oranges and other natural ingredients. It is crafted by the Greenbar Distillery, a family-owned and operated distillery in Los Angeles, known for their commitment to sustainable and eco-friendly production methods.

With its bold and tangy flavor, Greenbar Fruitlab Orange Liqueur adds a delicious twist to classic cocktails. It can be used as a substitute for traditional orange liqueurs like Cointreau or Triple Sec in cocktails like the Margarita, the Sidecar, or the Cosmopolitan.

The liqueur's bright orange color and intense aroma make it a standout ingredient in any cocktail. Its all-natural ingredients make it a healthier alternative to traditional liqueurs, without sacrificing on taste or quality.

Greenbar Fruitlab Orange Liqueur comes in an elegant, eco-friendly bottle that is 100% recyclable and made from sustainable materials. With its commitment to both quality and sustainability, Greenbar Fruitlab Orange Liqueur is the perfect addition to any home bar or cocktail enthusiast's collection.