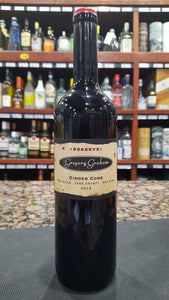 Gregory Graham Cinder Cone Reserve is a premium red wine that is crafted using a meticulous selection of premium grape varietals, including Cabernet Sauvignon, Syrah, and Petite Sirah. This wine is inspired by the volcanic soils of the Sierra Foothills, resulting in a complex and intense flavor profile.
The wine boasts a deep ruby color and a nose of dark fruit, including blackberry, black cherry, and cassis, with hints of vanilla and oak. On the palate, the wine is full-bodied and rich, with flavors of ripe dark fruit, cocoa, and a touch of spice. The tannins are firm and well-structured, providing a smooth and satisfying finish.
This wine is perfect for pairing with grilled meats, roasted vegetables, and hearty stews. It also pairs well with hard and semi-hard cheeses. Whether you're hosting a dinner party or looking for a wine to enjoy with friends, Gregory Graham Cinder Cone Reserve is a fantastic choice that is sure to impress.
Overall, Gregory Graham Cinder Cone Reserve is an exceptional wine that captures the essence of the Sierra Foothills. It is a must-try for any red wine lover and is sure to become a favorite in your collection.