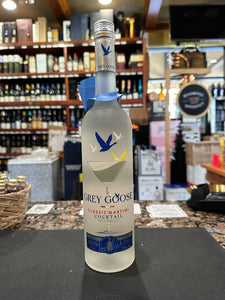 Indulge in the epitome of sophistication with the Grey Goose Classic Martini Cocktail, a timeless libation that has captivated discerning palates for generations. Crafted to perfection by the world-renowned Grey Goose distillery, this martini is a true testament to the art of mixology. Elevate your drinking experience and relish the elegance of this iconic cocktail, available now at Folsom Wine & Spirits.

The Grey Goose Classic Martini Cocktail begins with the finest Grey Goose Vodka, made from the choicest French wheat and pristine spring water. This premium vodka serves as the heart and soul of the martini, ensuring a smooth and velvety texture that caresses your senses with every sip. The attention to detail and commitment to quality are evident in every aspect of this cocktail, from the selection of ingredients to the expert blending process.

To create the perfect martini, our mixologists skillfully combine Grey Goose Vodka with a whisper of dry vermouth, achieving an impeccable balance that allows the vodka's natural flavors to shine. The result is a martini with a refreshingly crisp taste, a subtle hint of botanicals, and a clean, enduring finish. Served in a chilled martini glass and garnished with a twist of lemon or olives, the Grey Goose Classic Martini Cocktail is the quintessential symbol of sophistication and refinement.

Whether you're celebrating a special occasion or simply unwinding after a long day, this classic martini is the ultimate choice for those who appreciate the finer things in life. Its timeless appeal and exceptional quality make it a must-have addition to your cocktail repertoire. Elevate your evenings, toast to life's milestones, and savor the essence of luxury with the Grey Goose Classic Martini Cocktail, exclusively available at Folsom Wine & Spirits. Cheers to an experience that transcends ordinary cocktails and embraces the extraordinary.