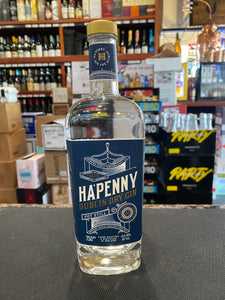 Ha'penny Dublin Dry Gin is a small-batch pot-distilled gin that features 13 expertly selected botanicals, each offering a unique flavor and taste inspired by Dublin. Named after the iconic Ha'penny Bridge, this well-rounded gin has a slightly citrusy floral aroma and a lingering sweetness.
Although it can be consumed neat with a drop of water, Ha'penny is best served with a slice of lemon and a sprig of mint with tonic water. The Ha'penny range includes botanicals such as Geranium, Dandelion, Lavender, and Blackberry, which would have been growing in the nearby Phoenix Park during the Victorian era when the bridge was constructed.
Overall, Ha'penny Dublin Dry Gin is a distinctive and delicious gin that perfectly captures the essence of Dublin's botanicals and culture.