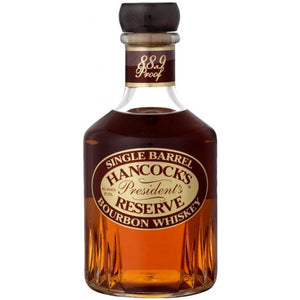 Elevate your bourbon experience with Hancocks President's Reserve Single Barrel Bourbon Whiskey, a remarkable testament to tradition, heritage, and the pursuit of excellence. Crafted in the heart of Kentucky, this small-batch bourbon is a tribute to the legacy of the Hancock family, who have dedicated themselves to producing exceptional bourbon for generations. With every bottle, you'll embark on a journey through time and taste the enduring commitment to quality that is synonymous with the Hancock name.

This bourbon's journey begins with the selection of the finest grains and the purest limestone-filtered water, the foundation of a rich and complex flavor profile. Hancocks President's Reserve is a true embodiment of the art of distillation, and it carries the legacy of generations of distillers who have passed down their knowledge and expertise.

The bourbon is aged in new, charred oak barrels, where it takes on the flavors and characteristics of the wood over time. Each barrel is carefully monitored and tasted, ensuring that only the most exceptional barrels are selected for bottling. As a single barrel bourbon, every bottle offers a unique taste experience, as no two barrels are exactly alike.

The color of Hancocks President's Reserve Single Barrel Bourbon is a deep amber hue, hinting at the rich and robust flavors contained within. The aroma is a captivating blend of caramel, vanilla, and toasted oak, promising a tasting experience that's as inviting as it is complex.

On the palate, this bourbon reveals a beautifully balanced profile. The taste is velvety and sophisticated, with notes of toffee, dark chocolate, and subtle spices. Hints of dried fruit and a warm, oaky finish add depth and character to every sip. It's a bourbon that encourages you to savor each nuance, appreciating the craftsmanship and care that went into every bottle.

The finish is gratifyingly long and warming, leaving you with the memory of a well-crafted bourbon that's meant to be savored. Hancocks President's Reserve Single Barrel Bourbon Whiskey is more than just a spirit; it's a tribute to tradition, a symbol of family heritage, and a toast to the enduring legacy of bourbon production. At Folsom Wine & Spirits, we are honored to offer this exceptional bourbon to our valued customers who appreciate the artistry and dedication that go into every bottle. Secure your bottle today and elevate your spirits collection with the rich heritage of Hancocks President's Reserve, one sip at a time.