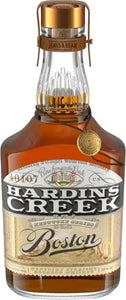 Experience the legacy and craftsmanship of American bourbon with Hardin's Creek Boston Kentucky Straight Bourbon Whiskey, an exceptional expression that honors the traditions of bourbon-making in the heart of Kentucky.

Hardin's Creek Boston Bourbon is a testament to the dedication, expertise, and passion that go into crafting a timeless American spirit. As you pour a glass, you'll be greeted by its inviting amber hue, a visual reflection of the bourbon's maturation in charred oak barrels. The aroma is a delightful blend of caramel, vanilla, and toasted oak, inviting you on a sensory journey of indulgence. On the palate, you'll savor a harmonious medley of flavors, featuring notes of butterscotch, dark fruit, and a gentle hint of spice, creating a rich and complex profile. The finish is long and satisfying, leaving you with a warm and memorable impression that lingers.

Hardin's Creek Boston Kentucky Straight Bourbon Whiskey is more than just a whiskey; it's a tribute to American craftsmanship, tradition, and the commitment that goes into creating a timeless classic.

Whether you're a seasoned bourbon enthusiast or someone eager to explore the world of American whiskey, Hardin's Creek Boston Bourbon is an essential addition to your collection. It embodies the heritage and artistry of Kentucky bourbon-making, where every drop is a testament to the passion and precision of the distiller. Order your bottle today from Folsom Wine & Spirits and savor the authentic, time-honored taste of Kentucky bourbon. Cheers to the classics!