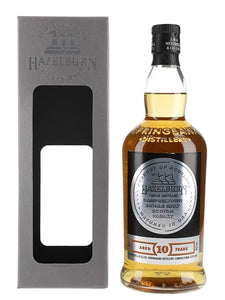 Hazelburn, a Scotch Single Malt, is known for its light and delicate character, which is achieved by using unpeated barley and distilling the spirit three times instead of the standard two. The ten-year-old expression was introduced in 2015 and is typically matured in ex-bourbon casks.

According to blogger SWB, who has reviewed the whisky, Hazelburn 10 has a thick and mouth-coating palate with gentle sweetness, fruity oils, and a hint of spices. The quality from the nose is evident on the palate, with a fudgey, creamy texture and chocolate notes. The finish is packed with beautiful flavors, some of which are derived from the high-quality bourbon wood used in maturation. It's impressively long, leaving flavors on the palate for a considerable time.

SWB was particularly impressed with Hazelburn 10, describing it as a potential gem. It stood out in their mind even after a big Islay tour, which is a testament to its exceptional quality.