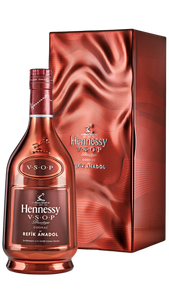 The ideal expression of a perfectly balanced cognac, Hennessy V.S.O.P originated from an order placed in 1817 by the future King George IV of the United Kingdom for a "Very Superior Old Pale" cognac.
COLOR
Flamboyant mahogany with light tones.
NOSE
Releases very mature notes, evoking the aroma of fresh fruit coupled with a sensation of suppleness that settles in to underscore the harmony of this cognac.
PALATE
The sensation of full body deepens with the flavors of juicy fruits, vanilla, spices and mild tobacco also provided by the vigor of the younger eaux-de-vie.