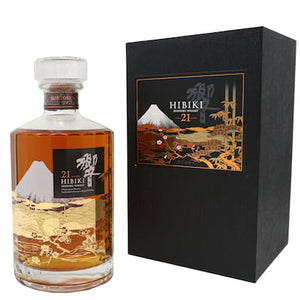 Hibiki 21 was named Worlds Best Blended Whisky at the 2014 World Whiskies Awards and was awarded 96 points in Jim Murrays 2014 Whisky Bible. Dr. Whisky says its Unbelievably balanced, and dangerously drinkable. So basically, its pretty good stuff! Special design, epitomizing the Beauty of Japanese Nature. This Suntory Whisky Hibiki 21 years was released in 2015, it has Mt. Fuji drawn in austere black and white colours, with Japanese plum, pine and bamboo painted on its skirts, symbolizing happiness and good fortune. Also echoed is the Japanese sensitivity to the transience of seasons. Deeply aromatic, quintessentially Japanese, and aesthetically appealing, the design perfectly captures the spirit of the Hibiki.
Nose: Sweet, caramalised nuts, some lemon acidity, blackcurrants and pears with vanilla, dark toffee and rich sherry spice.
Palate: Oak, dark cherry and sweet caramel notes, buttery with a wisp of smoke and some wood spice.
Finish: Long, with a hint of smoke.