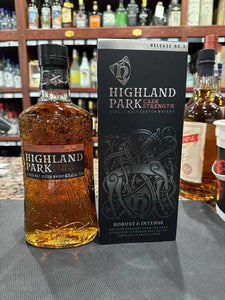 Unveil the true essence of Scotland with Highland Park Cask Strength Single Malt Scotch Whisky, a spirit that encapsulates the rugged beauty and rich heritage of the Orkney Islands. Crafted with a commitment to tradition and an unwavering dedication to quality, this exceptional single malt is a true testament to the art of whisky-making.

At Highland Park, the pursuit of perfection begins with the finest ingredients. This Cask Strength expression is made from hand-selected European oak sherry-seasoned casks, which impart a deep and complex character to the whisky. The result is a liquid symphony of flavors that will transport your senses to the heart of Scotland.

From the moment you pour a dram of Highland Park Cask Strength, you'll be captivated by its rich amber hue and the enticing aromas of dried fruits, spices, and a subtle hint of heather honey. The palate delivers an extraordinary depth of flavor, with notes of dark chocolate, toffee, and a whisper of smoky peat. It's an exquisite journey that showcases the remarkable diversity of Scottish whisky in every sip.

The beauty of Highland Park Cask Strength lies in its unadulterated, undiluted nature. Bottled straight from the cask without any dilution, it offers a robust and full-bodied experience that truly reflects the whisky's natural character and intensity.

Whether you're a seasoned whisky enthusiast or someone eager to explore the world of Scotch, Highland Park Cask Strength is a must-have addition to your collection. It's the embodiment of Scotland's rugged charm and rich traditions, an experience that promises to elevate your appreciation for single malt Scotch whisky.

Savor the unparalleled craftsmanship and heritage of Highland Park, where every drop is a tribute to the Orkney Islands' timeless beauty. Order your bottle today from Folsom Wine & Spirits and immerse yourself in the authentic, cask-strength magic of Highland Park Single Malt Scotch Whisky. Slàinte mhath! Cheers to the extraordinary!