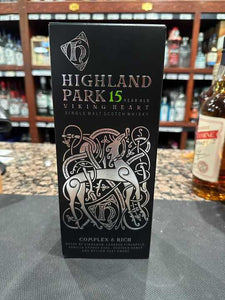 Embark on a journey through time and tradition with Highland Park Viking Heart 15 Year Old Single Malt Scotch Whisky. This remarkable expression pays homage to the Viking heritage that has shaped the Orkney Islands and the character of Highland Park's exceptional whisky. With a history dating back over a thousand years, this single malt captures the essence of the past while delivering a flavor profile that's truly timeless.

Viking Heart, aged for a full 15 years, represents a perfect harmony of craftsmanship and patience. The whisky is matured in sherry-seasoned oak casks, allowing it to absorb the rich, aromatic notes that define Highland Park's signature style. From the very first pour, you'll be transported to the heart of the Orkney Islands.

As you lift the glass, you'll discover a whisky with a rich, golden hue and a nose that offers a tantalizing bouquet of honeyed fruits, warm spices, and a subtle smokiness. On the palate, Viking Heart unfolds with flavors of dried fruit, dark chocolate, and a touch of heather honey. The finish is long and satisfying, leaving you with a warmth that lingers, like the embrace of a familiar friend.

Highland Park Viking Heart 15 Year Old is not just a whisky; it's a tribute to the warriors and seafarers who left their mark on the Orkney Islands. This is a whisky to be savored and shared with those who appreciate the beauty of history and craftsmanship.

Whether you're a whisky connoisseur or someone seeking to explore the world of single malt Scotch, Highland Park Viking Heart is an exceptional choice. It embodies the spirit of the Orkney Islands, where the past and present come together in every bottle. Order your own piece of Viking heritage today from Folsom Wine & Spirits and raise a glass to the enduring legacy of Highland Park Single Malt Scotch Whisky. Skál! Cheers to the timeless!