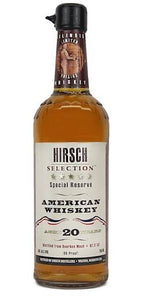 The story of the Hirsch name, in whiskey, is one of a head-spinning series of trades and acquisitions, sales, bottlings, and rebottlings, both of the name itself and the whiskeys sold under that name.
To begin: you may be familiar with the name A.H. Hirsch—as in A.H. Hirsch Reserve, a 16-year-old expression that, given its high retail price for the stock that's left out there, makes it one of the most expensive American whiskeys on the market today. That whiskey was distilled at the old Bomberger's distillery in Schaefferstown, Pennsylvania. After changing hands a couple times, both the whiskey and the Hirsch name ended up in the hands of Henry Preiss, owner of Preiss Imports. With me so far?
Next, Preiss Imports was acquired by San Francisco-based Anchor Brewers and Distillers. That company still sells bourbon under the Hirsch name, though it's a different animal entirely—a series of bourbons sourced from undisclosed producers around the country. Making things even more confusing, Henry Preiss later reacquired the name Preiss Imports and started building an entirely new portfolio of spirits.
But back when Preiss still had the Hirsch label in its portfolio, the company bottled several well-aged whiskeys under that name, including this American whiskey. Since the names Hirsch and Preiss both mean something entirely different than they did ten years ago, there's little information available today on this whiskey, other than what's on the bottle. To wit: it was distilled in Illinois and barreled on February 27, 1987 (at least the date is precise!). It's made with a bourbon mash bill, matured in used cooperage for 20 years, and was bottled at 96 proof. The run was limited to 120 barrels.