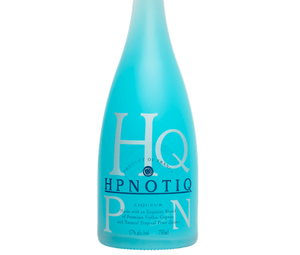 Hpnotiq Tropical Liqueur is a vibrant and flavorful spirit that is perfect for anyone looking for a fun and refreshing drink. This premium liqueur is made with a blend of premium vodka, tropical fruit juices, and a hint of natural blueberry flavor, resulting in a one-of-a-kind taste that is both sweet and tangy.

The distinctive blue color of Hpnotiq is as eye-catching as its taste. This color is achieved through the addition of a natural tropical fruit extract, giving it a unique and vibrant appearance that stands out on any bar.

Hpnotiq is best enjoyed over ice, or mixed into a wide range of cocktails. It pairs perfectly with other tropical flavors such as pineapple, coconut, and citrus, making it a versatile addition to any bartender's repertoire.

At 17% alcohol by volume, Hpnotiq is a smooth and easy-drinking spirit that is perfect for sipping on a hot summer day or for adding a burst of tropical flavor to any cocktail. Its light and refreshing taste also makes it a popular choice for celebrations and parties.

Whether enjoyed on its own or used as a base for a creative cocktail, Hpnotiq Tropical Liqueur is the perfect choice for anyone looking for a fun and flavorful spirit.